Industry 4.0 experts teach local manufacturers to 'think big – start small – scale fast'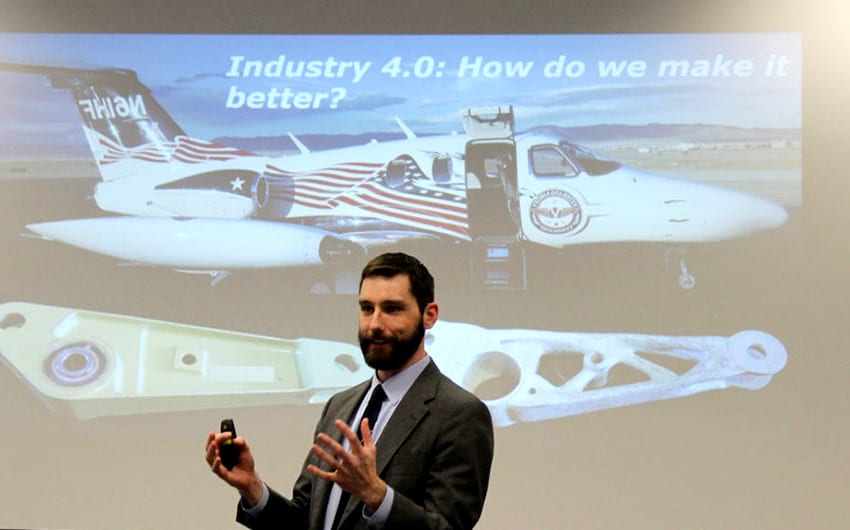 Local and national manufacturers alike have been trying to crack the code on how to incorporate advanced manufacturing technology (AMT), often referred to as Industry 4.0, into their businesses. On April 10, regional manufacturing leaders gathered at DVIRC as two AMT experts provided an overview of AMT and the evolving role of automation in the manufacturing industry.
Joe Mariani (pictured above), Research Manager at Deloitte, guided attendees through the history of Industry 4.0 and explained how it can be revolutionary for businesses around the globe, contributing to better outcomes, improved processes, and reduced lead times. Greg Selke (pictured below), CEO of ONExia, a distributor, systems integrator, and manufacturer of motion control, robotic, and machine automation products, took attendees through the major types of automation applications, and provided practical ways they can apply Industry 4.0 to their businesses.
Industry 4.0 involves the connecting of physical and cyber systems, and introduces a way for computers and automation to come together in an entirely new way within the manufacturing industry. According to Mariani, Industry 4.0 does not just involve the efficiencies in how to make parts, but rather, the process of making products before assembling any parts.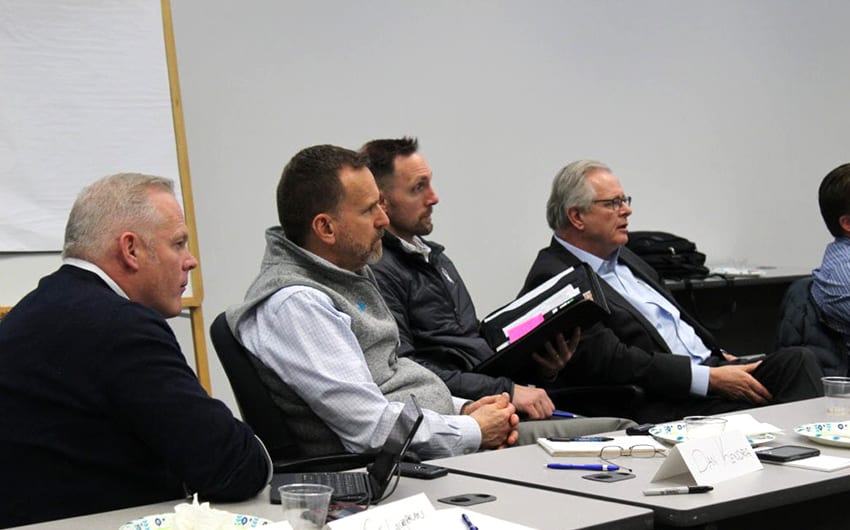 "Relatively simple process changes [to existing technologies] can have revolutionary effects on how we do things and society in general," according to Mariani. "The challenge is what we do with the data and how we create value." He reminded attendees that businesses need to drive technology application, and not the other way around.
Manufacturing leaders have expressed concern about the implementation of Industry 4.0 replacing jobs. Mariani provided relatable examples of how technology creates new opportunities for workers rather than replacing them, such as the advent of ATMs, which created more jobs in the banking industry. ATMs were introduced in the 1970s, and their numbers in the US economy quadrupled from approximately 100,000 to 400,000 between 1995 and 2010, according to the Bureau of Labor Statistics, and US bank teller employment rose from 500,000 to approximately 550,000 over the 30-year period from 1980 to 2010.
Mariani advised manufacturing leaders to view Industry 4.0 through the following process:
What is your business goal?
What information is needed for decisions that support that goal?
What technologies can gather that information or take action based on it?
What are the right technical, financing, and governance options for that technology?
The thesis of the Industry 4.0 talk could be summed up in one sentence: If you're not thinking about it, someone else is.
This unique event was attended by members of DVIRC's Manufacturing Network Groups. DVIRC's network groups offer a confidential setting where leaders from non-competing firms share and learn about common challenges as well as best practice solutions to achieve profitable growth. Members gain an invaluable network of trusted business advisors, business development opportunities, best practice presentations, and industry-related resources.
To learn more about DVIRC's Manufacturing Network Groups, or to see how DVIRC can help you develop an advanced technology roadmap, contact us.