Commerce Deputy Secretary Karen Kelley Visits DVIRC Client, Ehmke Manufacturing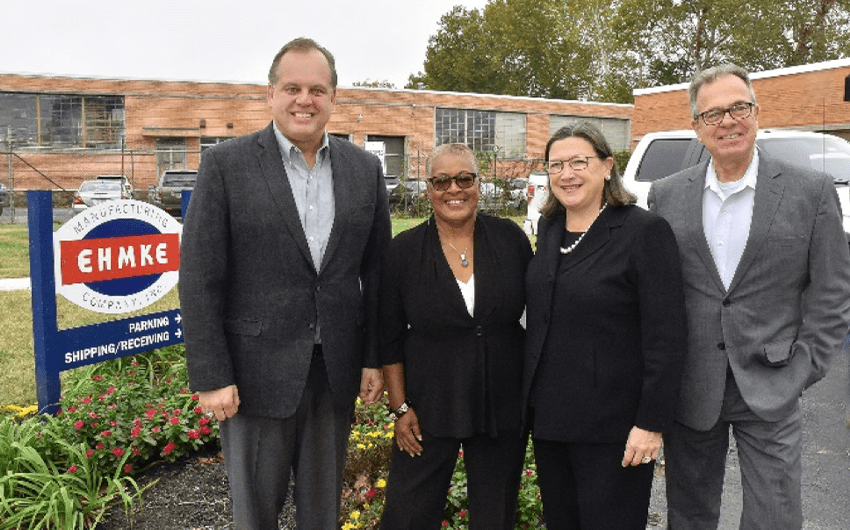 November 15, 2019
DVIRC Board member Bob Rosania, CEO of Ehmke Manufacturing, hosted U.S. Department of Commerce Deputy Secretary Karen Dunn Kelley for a roundtable discussion on October 12.  Linda Cruz-Carnall, Regional Director for the Economic Development Administration, and Philadelphia Commerce Director Harold Epps also attended the meeting.  DVIRC's Founder Joe Houldin and Executive Vice President Tony Girifalco, as well as several other manufacturers, were also at the meeting, which was arranged by DVIRC Board Chair Bernadine Hawes.
The conversation centered on education and workforce development, giving the Deputy Secretary a sense of some of the innovative ways manufacturers are addressing the ongoing issue of talent acquisition, development, and retention. Nick Hackett, President & CEO of New Way Air Bearings and DVIRC board member, shared his very positive experience hiring individuals with autism and his company's commitment to helping them succeed. Stockwell Elastomerics' President Bill Stockwell recounted for the Deputy Secretary how his company hired ex-offenders by working with a local agency.  Both innovations have been very successful.
"Manufacturing matters to Philadelphia's economy and the nation's," said Deputy Secretary Kelley. "Investments made by local leaders and businesses in workforce development, in partnership with this Administration's work, will ensure that our nation can succeed in building the economy of tomorrow."
"It was so important to have the US Commerce Deputy Secretary visit with our regional manufacturers," said Ms. Hawes.  "One of the most critical issues confronting manufacturers is having a skilled workforce if American manufacturing is to remain competitive. I think our small and medium-sized manufacturers provided the Deputy Secretary with some ideas about how we are trying to solve our workforce issues in our region."
In addition to leaders from New Way Air Bearings and Stockwell, other attendees included Pete Merzbacher from Philly Bread Company, AMETEK Vice President Jim Visnic (also a DVIRC board member), Kent Zambrelli, President & CEO of Boathouse Sports, Pat Cero, Principal Owner at Cer-Mac, Altoro Hall from the City Commerce Department, and Sam Rhoads and Tom Dalfo from PIDC.
Learn more about how DVIRC is involved in numerous initiatives to strengthen the industry's workforce pipeline.