Advanced Technology Event Supports Area Manufacturers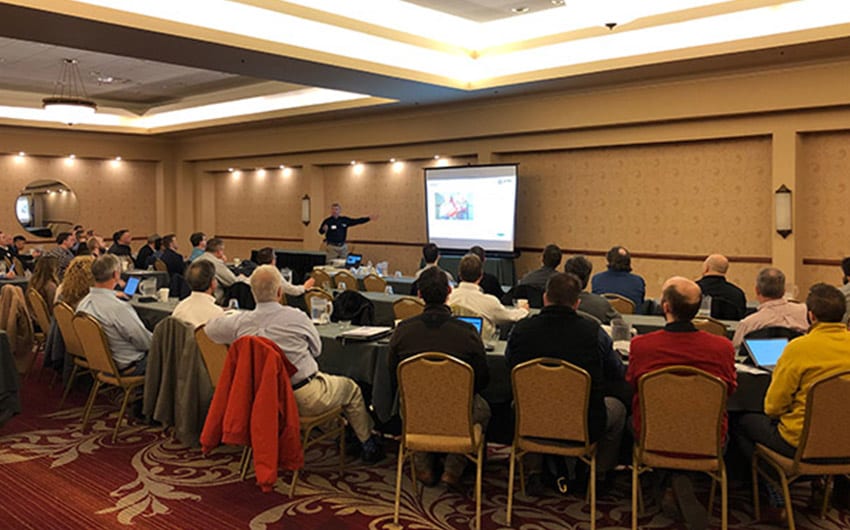 April 15, 2019
The Department of Defense's Office of Economic Adjustment (DOD-OEA) has provided funding to DVIRC and its Lehigh Valley counterpart, Manufacturers Resource Center (MRC), to help small and mid-sized manufacturers (SMMs) accelerate their rates of adoption and deployment of Advanced Manufacturing Technologies (AMTs). To support this initiative, DVIRC and MRC hired a Technology Advisor, Jeff Korsyn, to identify opportunities for SMMs to invest in AMTs and connect them to regional AMT experts.
As part of this effort, Korsyn facilitated a breakfast event in Allentown on March 19 designed to demonstrate AMTs and show SMMs how AMT investments can help improve their business. The event was attended by approximately 75 individuals representing 30 SMMs from the region.
The event featured five providers of technologies who each briefly presented the benefits of their offerings followed by a two-hour hands-on demonstration session where SMMs could see, touch, and discuss the providers' products and services. The providers and related technologies included:
Rockwell Automation: Data Analytics and Hardware/Software
ONExia: Robotics/Cobots
ImmersiveXR: Augmented & Virtual Reality
ProtoCAM: Additive Manufacturing
ASI Drives: Automated Guided Vehicles
The event was well received, and the providers all felt there was good traffic and interest in their offerings. Attendees commented that this event was long overdue and hoped that more events would follow. MRC was very pleased with the event and plans to offer similar AMT events in the 2019 calendar year. Attendee survey results indicate that the attendees were very pleased with the event as well and did provide some recommendations such as other technologies to include with future events, and what the attendees liked best about the event.
To learn more about how DVIRC and its partner organizations can help you use AMTs to improve your business, contact us