PAC Strapping Products
PAC Strapping Enters New Era With Upgraded Software
$25,000 invested in software/information systems
$25,000 invested in workforce practices/employee skills workforce practices
$50,000 invested in other areas of the business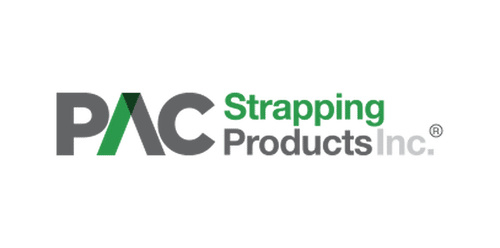 PAC Strapping Products located in Exton, PA is a full service manufacturer and supplier of plastic strapping, steel strapping, strapping machines, strapping tools and accessories. The company's strapping equipment and systems are designed for a multitude of applications and industries.
PAC Strapping's old ERP system was mainly focused on four areas – Accounting, Procurement/Inventory Control, Sales, and Shipping – and even then, it was limited to only certain sub-functions in these areas. For Accounting, there was no system-related way to do costing from actual build of materials, routings and labor overhead rates; this had to be performed off-line and then uploaded. The Sales function was mainly focused on order entry, invoicing, and reporting; there was no standard pricing setup by customer, no quoting, and no CRM connectivity. For Shipping, the system functioned across all areas but was only functional from paper; orders to be shipped were communicated by paper, outside of the system. The old system was not Electronic Data Interchange (EDI) compatible. EDI would be done manually through customer portals. With more and more customers – many of whom were growing in the business – using and requiring EDI, this process would not be sustainable in the future. The old system was past any technology upgrades, and the closing process was a "black box" controlled only by accounting.
In order for PAC leadership to identify the best possible software for their current and future needs, DVIRC's Harry Landsburg collaborated with them to develop a comprehensive user requirements document that was issued to multiple Process ERP vendors.  This was accomplished through a series of interviews with key PAC process owners. From there, an RFQ was developed, and based on the responses received on the RFQ from interested ERP software vendors, DVIRC worked with PAC to evaluate initial scope and cost estimates in phase one of the engagement.
Next, DVIRC managed multiple rounds of software solution demonstrations until the PAC team identified the software configuration that provided the best possible solution to support the full value proposition for this opportunity. DVIRC then further assisted the PAC team in critical due diligence activities that are essential to complete an appropriate software selection.
With the amount of remote work we are able to do (both caused by COVID as well as the new system capabilities), we are seriously considering a replacement of our customer service team to be full-time remote. This will enable us to move my machine service shop and then open up my machine service shop space for additional production capacity. I see a tremendous advantage this can bring for increasing sales on some product lines that are good margin items for PAC.
Marc Albero, VP/GM, PAC Strapping Products
$25,000 invested in software/information systems
$25,000 invested in workforce practices/employee skills workforce practices
$50,000 invested in other areas of the business
1 new jobs created
The new ERP system is capable across all functions of the business. Most important is the newfound insight into production scheduling and processing. There is now visibility on how far out the company is on select production items based on volume by SKU. There is also detail available on production variances from manufacturing jobs that never existed before, which will lead to better product costing down the line
In general, the insight into reporting across all areas has dramatically improved since these reports now exist where they did not before, and teams can use them to do their jobs better every day.
The new system is a complete package for the key business cycles. In addition, the system-based CRM, including opportunity tracking and functional quoting, will make forecasting a more focused process in 2021 and beyond.
New system is EDI capable. Once fully realized, there will likely be at least one person to re-assign for a different function within the business, if not two. This will also dramatically improve billing and AR accuracy
The new system has security roles and function-specific access so select employees can perform certain functions. This specifically helps with the "black box" accounting concern. There is now a tremendous amount of visibility depending on level of access. The new system has built-in paperless functionality– a tremendous advantage to support a remote workforce, something of particular value during the COVID pandemic.
More Success Stories
Ameriscend Turns to DVIRC for Strategic Planning, Continuous Improvement Training and Coaching
Global Coffee Roaster LavAzza Retains DVIRC to Support Continuous Improvement Culture
Beverage Icon Liberty Coca-Cola Retains DVIRC Six Sigma Experts Resulting in $1.4MM in Initial Cost Savings