Annual Manufacturing Executives Conference draws standing-room-only crowd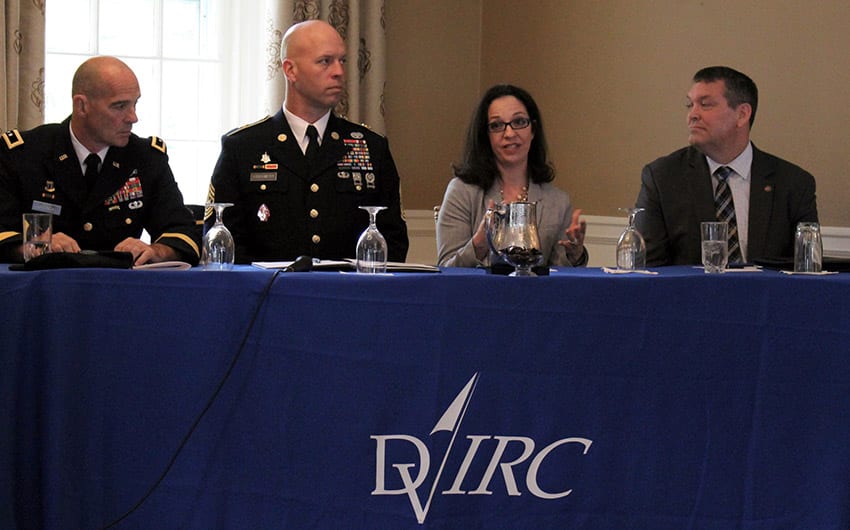 June 17, 2019
On May 14, over a hundred leaders from the Philadelphia manufacturing community gathered at Manufacturers' Country Club for the 23rd Annual Manufacturing Executives Conference to address the state and future of manufacturing.
The event, hosted by DVIRC, featured Neen James, an international leadership expert and author of Attention Pays™, who addressed ways to generate people's attention to drive profitability, productivity, and accountability. Scott Clemens, Chief Investment Strategist at Brown Brothers & Harriman, returned by popular demand to discuss the economic conditions related to manufacturing trends. To address the pervasive labor issue facing manufacturers, DVIRC added a panel discussion moderated by Alex Archawski, founder of the Greater Philadelphia Veterans Network, which addressed the importance of hiring Veterans, National Guardsmen, and Reservists for manufacturing jobs.
During the event, James guided attendees through an interactive session that uncovered strategies for manufacturing leaders to get—and keep—others' attention. The session was couched within the context of a national labor shortage, in which leaders must recruit, hire, and retain skilled talent to remain competitive.
"If we're going to be able to attract and retain talent, we need to be able to articulate what we do in a way that is attractive to others so we can keep their attention," James advised. "Our role as leaders in this industry is to challenge the thinking of the way we've always done things. To start paying attention to new ways of doing things as well as honoring the legacy of things that have worked in the past," said James.
Scott Clemens of Brown Brothers & Harriman wowed participants, turning what could be considered a dry or complex topic into an easily digestible and entertaining one. He provided an overview of recent economic activity, highlighted elements affecting the market, and predicted what could be in store for the industrial landscape. He attributed the economic prosperity of the past 10 years primarily to personal consumption, connecting the positive state of personal consumption to the strong labor market.
"When people spend money, they do so out of a sense of financial well-being. The labor market creates a sense of job security that encourages people to part with their money," Clemens explained. "We've added jobs for 104 consecutive months – an unprecedented stretch of job creation. And that's brought the unemployment rate down to 3.6%, the lowest in 50 years. It's a remarkable statement about how strong the labor market is."
Clemens noted that there are approximately 1 million more jobs available in America than there are workers to fill those jobs, a supply and demand issue leading to increased wages. "Those wages are going into people's pockets and being recycled into economic activity and corporate earnings. It's been a really beneficial cycle, and it's likely to continue," he said. He did warn that 2020 will require more moderation, and despite the growing economy and strong labor market, the Federal Reserve may lower interest rates.
Every year, the DVIRC hosts a Manufacturing Executive Conference featuring prominent speakers and economists as a benefit for members of its Manufacturing Network Groups. The DVIRC Network Groups provide a confidential setting where regional C-level leaders from non-competing firms share common challenges as well as best practice solutions to achieve profitable growth. Members gain a robust network of advisors, business development opportunities, best practice presentations, and industry resources.
"We're so thrilled to be able to put on this event for our members every year," said Barry Miller, President and CEO of DVIRC. "Our members are integral leaders in the manufacturing industry, and the event gives them the opportunity to come together to discuss ways to take manufacturing to the next level." Miller was pleased members invited their colleagues to attend as their guests. "There's so much to learn, and I hope this event gave guests a chance to see just how special the DVIRC network is."
To learn more about DVIRC's Manufacturing Network Groups, click here.
To attend an upcoming Network Group meeting as a guest or to learn more about membership, contact us here.