Remark Glass: Zero-Waste Certified Brand, Transforming Glass into Handmade Products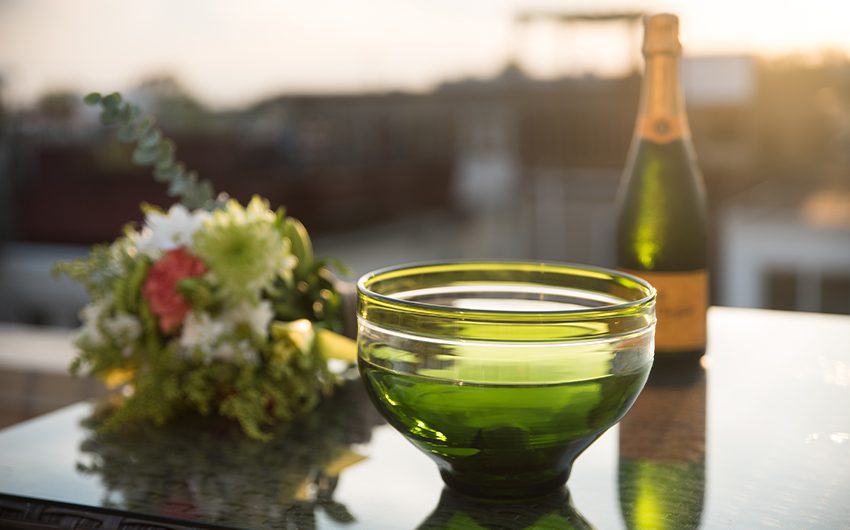 February 9, 2022
This article is the second in a series spotlighting Philadelphia makers participating in DVIRC's Level-Up Manufacturing program in partnership with Community College of Philadelphia.
Glass is 100% recyclable, and yet in America only one-third of the roughly 10 million metric tons of glass thrown away is recycled by comparison to the 90% recycling rate in European countries. The rest ends up in landfills, which release methane gas and pollute our water sources, ecosystems, wildlife, and are the overall main catalyst for climate change.
David Rue, an engineer at the Gas Technology Institute, says the US glass-recycling rate discrepancies between the US and other countries result mainly from differences in government policy and consumer education and habits.
Recycling contamination occurs when materials are sorted into the wrong recycling bin or when materials are not properly cleaned. This is sometimes referred to as aspirational recycling, something you wished could be recycled rather that what can actually be recycled. This is a big mistake, as it usually all ends up in a landfill including the recyclable materials if there are too many contaminants, which defeats the purpose. In short, rinse out those glass jam jars before throwing into the recycling bin.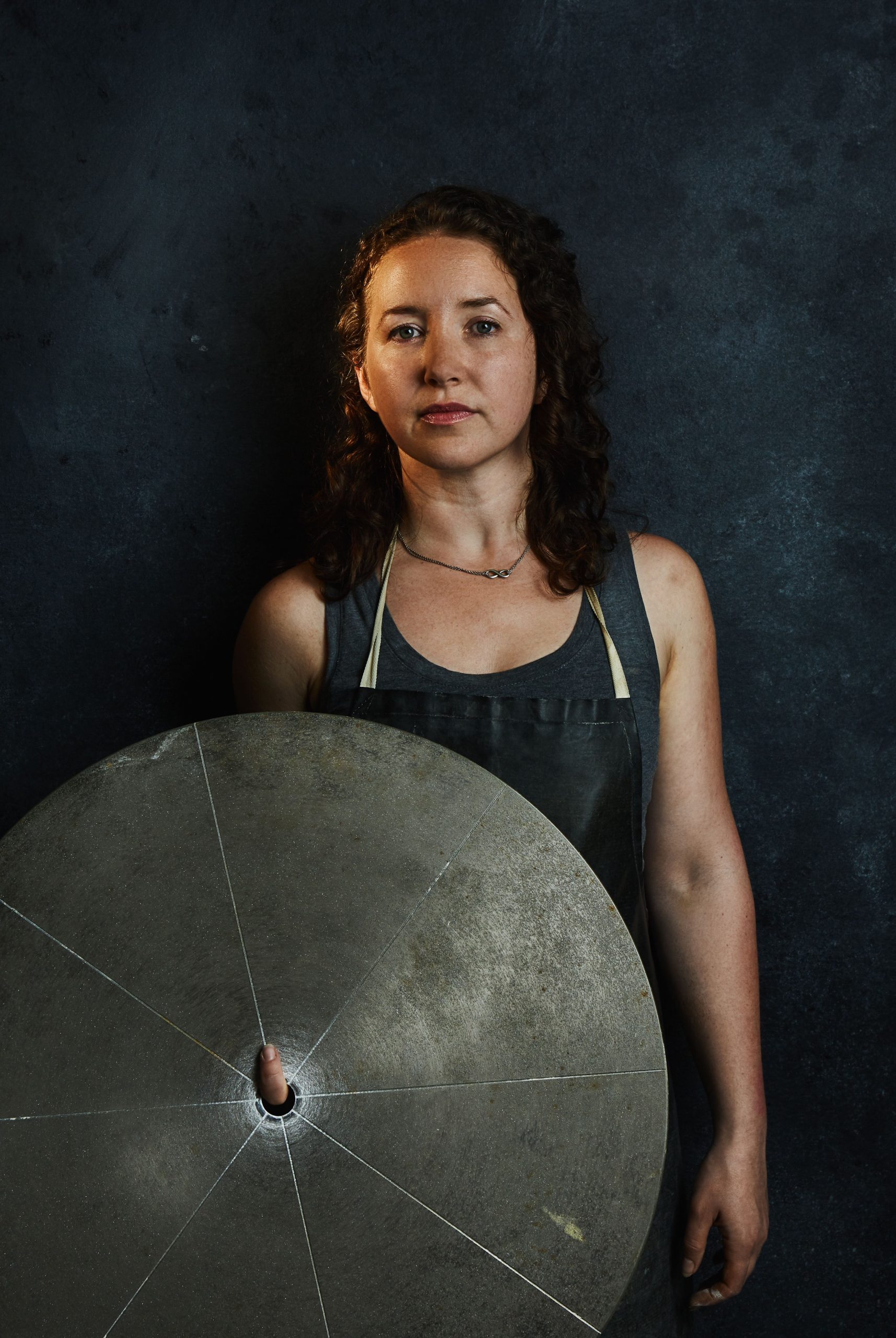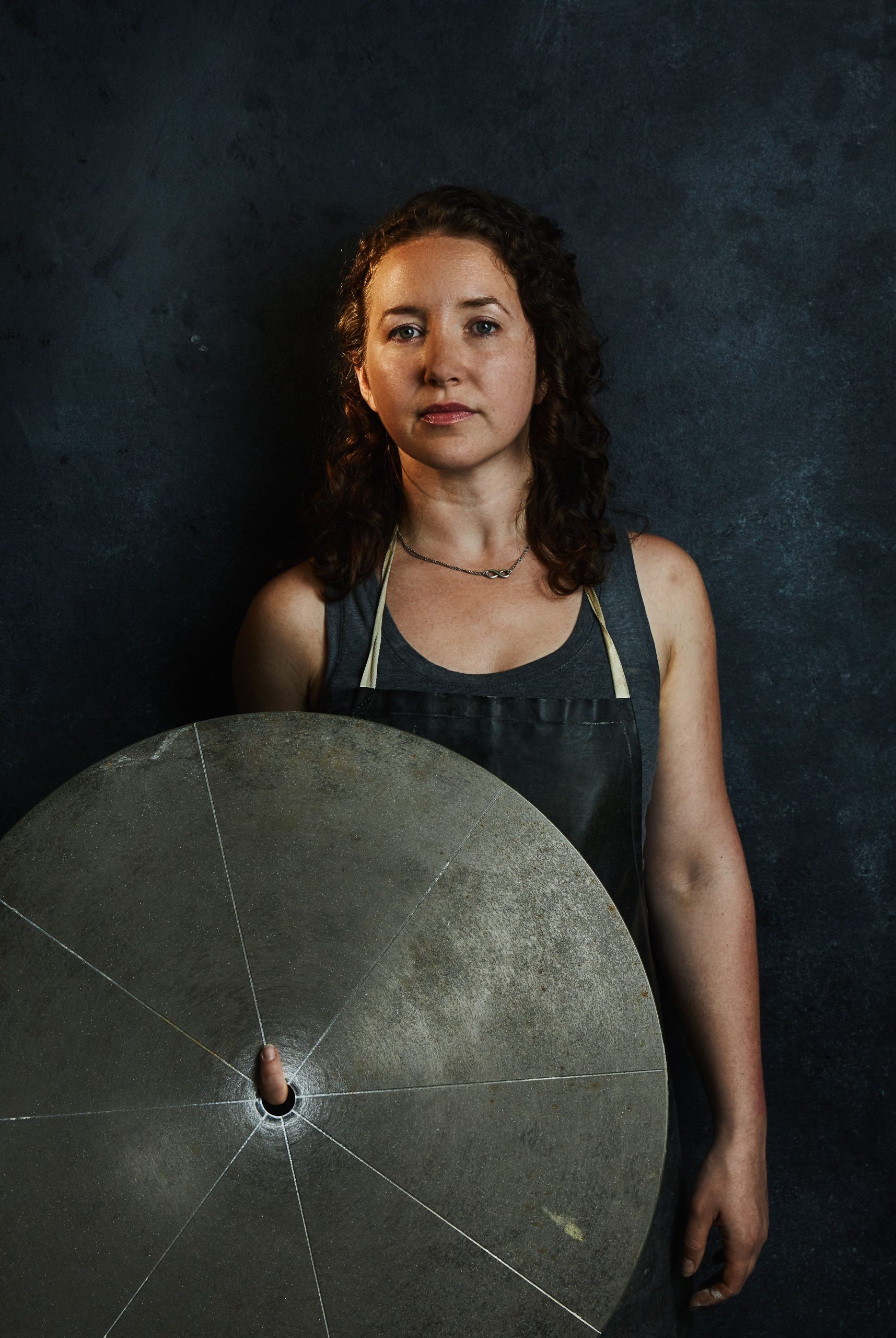 Remark Glass, located in the historical Bok building in Philadelphia, was officially founded in 2016 by three artists, Danielle Ruttenberg, Rebecca Davies, and Mark Ellis. These talented glass blowers and artisans are working together to change their industry into a more sustainable art form and manufacturing practice that can reduce the waste of glass. Remark designs and manufactures small batch home accessories from post-consumer bottle glass.
To help residents and local businesses recycle their glass discards more easily, Remark developed a sister organization, Bottle Underground, which is committed to innovating and localizing systems for collection, recirculation, recycling, downcycling, and upcycling.
DVIRC spoke with co-owner and participant of the Level Up Manufacturing program offered in partnership with the Community College of Philadelphia, Danielle Ruttenberg, about her innovative manufacturing business.
Please tell us about your business and why you began.
I went to school for glass blowing and fabrication. I began my career in an art studio where I worked with clients on creative projects, primarily coldworking (all the operations that involve grinding, blasting, carving, etching, cut glass, or polishing are considered coldworking) as well as hot glass (the process by which glass is hand blown, sculpted, casted into molds). I was a solo entrepreneur for seven years until 2015 when I reconnected with Mark Ellis (we attended Tyler school of Art together) and his wife Rebecca Davies. We started discussions on how to utilize recycled glass into a business plan. We began with a simple body of work including glassware. One of our first designs and most popular today is the short stemless wine glass, the Remark short glass.
We now work at the Bok building in Philadelphia. In the early stages of the business, we continued to fulfill contracted projects to financially sustain Remark. We created a keepsake gift line. Essentially we repurpose a keepsake from a special event into a home accessory, whether it is a bowl or pitcher, something that can be used over and over again, beautiful and that someone would treasure.
What types of bottles do you accept?
We accept all types of bottles. Community members would drop off bottles at Remark and eventually we needed a way to collect and organize the glass, which is how Bottle Underground was developed in July of last year. We then needed to develop a process for the bottles. For example, we were receiving Yellow Tail wine bottles often. We needed to ask ourselves, how can we create a design for that waste? Those types of bottles continued to grow and we realized which bottles we liked to use. We preferred champagne, soda, and wine. Our mission was to find the best use for this type of glass. We developed containers for brands as wholesale options, which use the glass products for lotions or candles. Custom pieces are available on our website. Interior designers and individuals can also book appointments on the website.
Why did you choose to enroll in the Level Up program? Why DVIRC?
DVIRC reached out to us after we completed the Power Up program through the Community College of Philadelphia. There is always something to learn and analyze from a manufacturing level, which does not necessarily coincide with the entrepreneurial side. It is important for Remark to start to consider machine work without omitting the creativity.
What do you hope to gain from the program?
I feel like we have already gained insight into workflow structure and where we can eliminate time. We have learned how to be more productive or decipher if something is not working how we can make tweaks to be more effective. Creative minds and metrics do not always go hand in hand; now I'm learning different ways to evaluate the business and to share with employees, including having transparency with the team so everyone is on board with changes. We are focused on sustainability and our craft, all while being able to make a profit. One goal is to cut out the fat and streamline our business.
What does a ready-to-scale business look like for Remark? Is it a larger selection of already made products as opposed to custom?
This is part of the reason why the "Level Up" program is so timely for us. The direct-to-consumer inventory is growing and we want to scale that in a practical way. Currently, we have two benches in the hot shop and we need a clear trajectory for adding workstations and employees for both the keepsake and custom lighting. We are interested in scaling more in the interior building furnishings, which would allow us to process more recycled glass like tiles and cast sinks as well as lighting that can be purchased and sold wholesale. In order to stay true to our mission, we need to look at the bigger picture. In that regard, we are working with glass scientists at Penn State for material studies developing products and are considering licensing out the method as part of a consulting service.
We are pleasantly surprised that we are not experiencing any supply issues, which is rare. We actually have too much supply that needs to be processed. We are taking this opportunity with DVIRC seriously and are looking at disrupting the waste process by looking at things from a different perspective.
Could you please share some tips for small business owners like yourself?
Two important pieces of advice that I can share is first knowing when to delegate, and second, trusting and hiring the right people. Take the time to consider that as the owner, you are only as strong as your team, even if you think you can do it better. You need your team to be at the same level. Remember, you might be let down at times, but do not give up.
If you live in Philadelphia, consider dropping off your bottles to Bottle Underground. The most in demand bottles are 1.5 L Wine Bottles, Modelo -standard size, uniquely textured bottles, clear champagne or rose bottles, and cobalt or other unique colors. Otherwise, please be sure to check your local recycling programs and guidelines to properly discard waste.