DVIRC Kicks off Workforce Demand Study to Support Growing Need for Manufacturing Workers, Essential Skills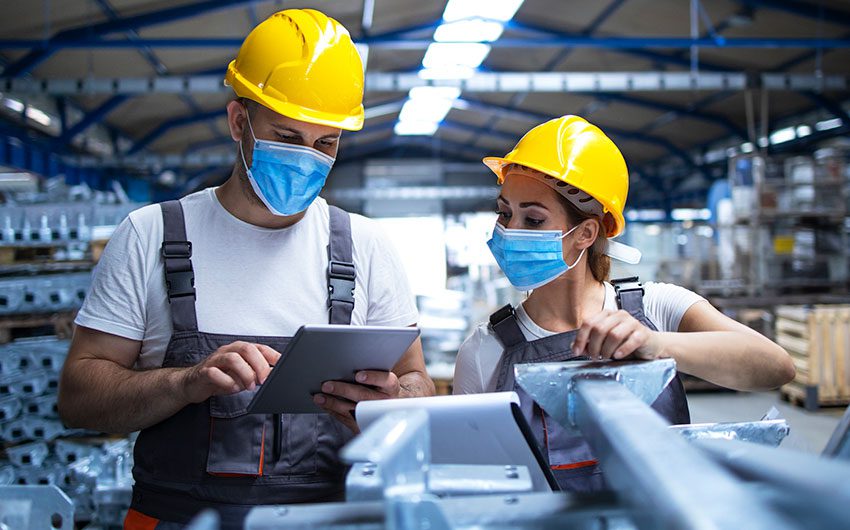 July 28, 2021
DVIRC's recently established Manufacturing Advisory Council, created to support the region's Industry 4.0 technology and workforce needs, kicked off a Workforce Labor Demand and Education Supply study this week, in partnership with the Montgomery County Workforce Development Board (MontcoWorks) and PECO. The Advisory Council, made up of a diverse ecosystem of regional leaders plans to achieve the following goals:
Analyze the workforce demand within the regional manufacturing sector, including demand for the necessary current and future skills, and
Conduct an educational program audit of high schools, universities, and technical colleges to analyze the skills their programs are producing and participants are developing
Identify Pathway Mapping to meet in-demand occupations to transition existing workers within industry or outside of manufacturing – based on two core elements – Skills Adjacency (similar skills requiring upskilling to bridge gap), and Realized Transitions (through career awareness, attract individuals with greater potential to transition into manufacturing)
DVIRC has engaged Burning Glass, an analytics software company supported by the world's largest and most sophisticated database of labor market data that focuses on the labor market, to conduct the study. In addition to quantitative analysis, the study will include qualitative input through primary research conducted with industry leaders and education stakeholders in the Philadelphia, Berks, and Lancaster metropolitan areas.
"Once we complete the study, Burning Glass will provide a recommendation report that will inform how Philadelphia, Berks, and Lancaster area stakeholders can transform the manufacturing workforce ecosystem to support a regional economic powerhouse," says Mark Basla, DVIRC's Chief Marketing Officer and organizer of the company's Manufacturing Advisory Council. "The report will include a roadmap for addressing the challenges and opportunities for immediate actions to expand access to talent and longer-term actions to build a diverse and skilled talent pipeline, including K-12 programs, inclusive of underserved populations."
The Advisory Council was developed through an award DVIRC received from the Department of Defense's (DoD) Office of Local Defense Community Cooperation (OLDCC) to help strengthen the capabilities and competitiveness of the region's small and mid-sized manufacturers (SMMs) critical to the economy and our national security. Learn more about DVIRC's work with DoD.
AMT Advisory Council Members
Business Community Members
Michael Araten, President & CEO, The Rodon Group
Michael Cook, Director Global Academic Partnerships, Rockwell Automation
Tony Forte, Vice President Manufacturing, Globus Medical
Al Frattarola, Director Global Engineering & Technology, Southco
Mark Goodman, Director, North American Industry Sales, Amatrol, Inc.
Michael Luber, Vice President Business Transformation & Operations, Liberty Coca-Cola
Christin (Cardone) McClave, former COO, Cardone Industries, Chief Coach/Consultant, Orange Star Ventures 
Marco Musto, Account Manager – OEM Business, Rockwell Automation
Brian Shaffer, Director of Operations, Harold Beck & Sons
David Taylor, CEO, Tavo Packaging
Jim Williams, President, All Points Additive
Luke Wuthrich, Executive Vice President Operations, United Safety
Mike Giantomaso, Vice President, HR, Philly Shipyard
Workforce Development Members
Jennifer Butler, Executive Director, Montgomery County Workforce Development Board
Dan Fogarty, Executive Director, Berks County Workforce Development Board
Manufacturing USA Institute Members
Jennifer Pilat, Vice President, Strategy & Engagement, MxD (Manufacturing & Digital)
John Balchunas, Workforce Director, The National Institute for Innovation in Manufacturing Biopharmaceuticals (NIIMBL)
Berardino Barratta, Vice President Projects and Engineering, MxD
Lisa Masciantonio, Chief Workforce Officer, ARM (Advanced Robotics for Manufacturing)
Linda Wood Senior Certification Manager, ARM
STEM Education Development Liaison Members
Nancy Peter, Director, McKinney Center for STEM Education, Philadelphia Education Fund
Britney Davis, STEM Project Manager, McKinney Center for STEM Education
Phil Brooks, Director of STEM Workforce Partnerships, University City Science Center
Community College Member
Kyle Longacre, Dean Workforce and Economic Development, Montgomery County Community College
Other Corporate Partners
William (Bill) DeVito, SVP / State Director, Public Affairs, Citizen's Bank
Becki Lynch, Director of U.S. Community Partnerships, GSK
Kimberly Palladino, Collective Backbone Manager, U.S. Community Partnerships, GSK
Government Partners
Gianna Grossman, Director of Workforce Partnerships, City of Philadelphia
Dr. E. Michael Golda, CTO, Department of Defense Naval Surface Warfare Center, Philadelphia Division
Mary Ann Pacelli, Division Chief for Network Learning and Strategic Competitions, NIST/MEP
For more information about the study or DVIRC's Manufacturing Advisory Council, contact Mark Basla, Chief Marketing Officer, at mbasla@dvirc.org.