Your Vote Needed! What's So Cool About Manufacturing Contest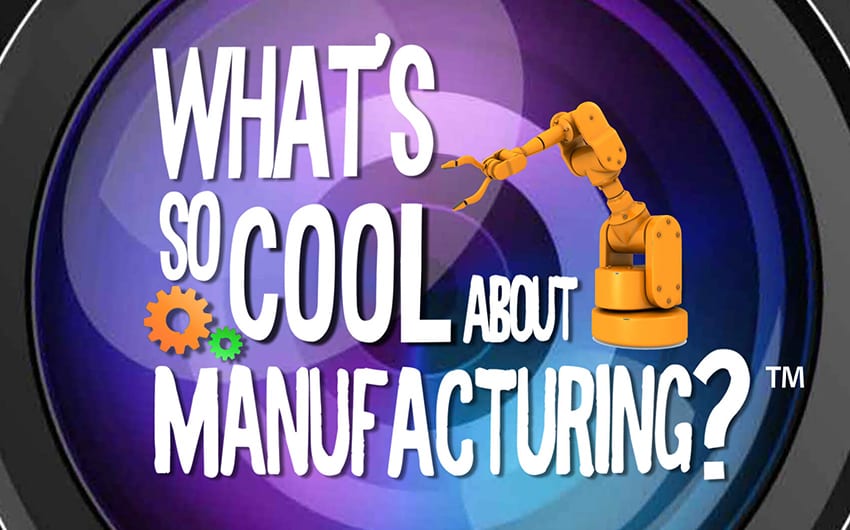 March 11, 2019
Who knew manufacturing could be so cool? Thanks to DVIRC's "What's So Cool About Manufacturing?" Contest, hundreds of students from Philadelphia area middle schools now know!
On April 8th, 2019, students, parents, educators, manufacturing leaders, community sponsors, local legislators, and project partners will gather at the Oaks Convention Center for an awards ceremony where students will receive awards for the best student-developed videos exploring manufacturing in the Philadelphia region. The "What's So Cool About Manufacturing?" contest gives middle-school students from schools in Bucks, Montgomery, and Philadelphia counties the opportunity to learn about local manufacturers by visiting them to produce a documentary video that they can then present to students across the region in an educational and "cool" way.
We need your vote! Student video submissions are now posted on the "What's So Cool About Manufacturing?" website, and from March 20-22, the public can vote for their favorite submissions.
This year, 26 teams from middle schools partnered with host manufacturers, and under the supervision of a teacher coach, toured the host manufacturer's facility to document employee interviews and explore the company's products and processes through the lens of a GoPro camera. They later edited their footage and translated what they found to be "cool" about that company into a short video. The public can then cast online "votes" for their favorite video. The grand winner will be awarded the Viewer's Choice Award.
At the April 8th award ceremony, judges will determine winning videos in a variety of other categories, including Outstanding Overall Program, Videography, Creativity, Educational Value, Career Pathway, and more. Participating schools and manufacturers include:
This program is funded in part by a grant from the Pennsylvania Department of Community and Economic Development's Manufacturing PA Training-to-Career program.  Other major sponsors include the Bucks County Workforce Development Board, the Montgomery County Workforce Development Board, and Manufacturing Alliance of Bucks & Montgomery Counties.
Visit www.whatssocool.org for more information.
The Philadelphia region is one of numerous "What's So Cool About Manufacturing" contests being held throughout the country. Please visit the What's So Cool? website to watch the fantastic videos developed by the students to find out what's so cool about manufacturing in their region!
About Delaware Valley Industrial Resource Center
DVIRC is a regional economic development organization with a public purpose—to support the profitable growth of small and mid-sized U.S. manufacturers. Our vision is to have the region's manufacturing companies recognized as among the most advanced and innovative manufacturing companies in the world. Our mission is to strengthen regional manufacturing companies by helping them continuously improve their competitiveness and profitable growth. We support manufacturers through three practice areas: customized consulting, training and education, and executive network groups. Since 1988 we have served more than 2,000 manufacturers and generated over $2 Billion in client impact. For more information visit www.dvirc.org.
About "What's So Cool About Manufacturing?"™
Developed by Manufacturers Resource Center (MRC), the WSCM program is a video based educational tool that increases awareness of career paths in manufacturing. MRC developed this innovative career awareness program that at its core is "peer marketing" (kids telling kids what's so cool about manufacturing jobs). The contest is showcased on the What's So Cool Website, and shared nationally through the Manufacturing Institute and the Manufacturing Extension Partnership platforms. The contest is expanding across the Commonwealth and the country. Inside Pennsylvania there will be 16 regions conducting contests this year. This contest gives students the opportunity to connect with local manufacturers, document their experiences and present them in an educational and "cool" way. The contest was created to generate excitement that draws students towards manufacturing career paths. This program is funded in part by the Pennsylvania Department of Community & Economic Development's Training-to-Career grant, part of Governor Tom Wolf's Manufacturing PA initiative.