LEM Products, Inc. Educates Students About Careers in Manufacturing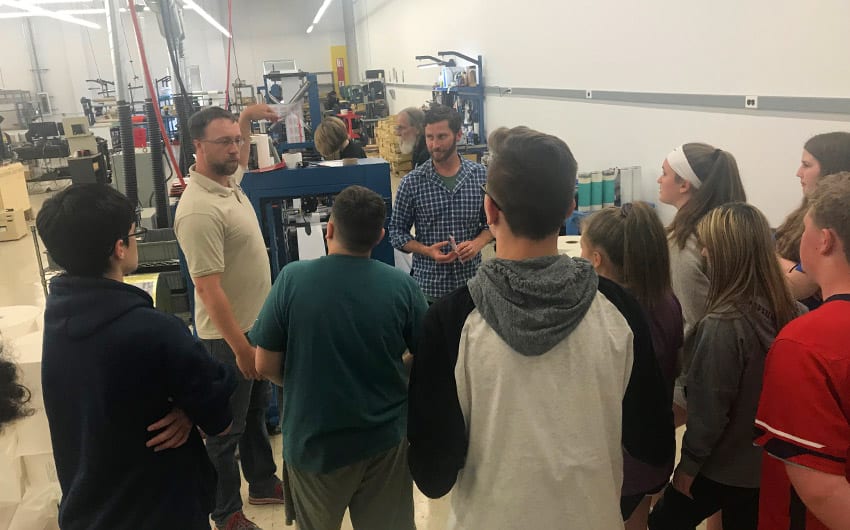 June 10, 2019
Local schools benefit from learning about manufacturing jobs where worker demand is high.
LEM Products, Inc., a global manufacturer of industrial safety identification labels, tags and signs is working to educate students about potential career opportunities in the manufacturing sector. Students from Colonial Middle School in Plymouth Meeting recently participated in a facility tour at LEM Products, Inc. headquarters, and LEM employees traveled to Stewart Middle School in Norristown to speak with students inside the classroom.
According to the National Association of Manufacturers, more than 71 percent of manufacturers listed the inability to attract and retain workers as a top business concern in 2019, and manufacturing will need 4.6 million more workers over the next decade, creating a skilled worker shortage. LEM Products believes that shining a light on alternate career paths and informing younger generations of opportunities in the industry is critical.
"When kids think about what they want to be when they grow up, many students only know about becoming a basketball star, doctor, lawyer or teacher," said Michael Hess, chief operating officer at LEM Products, Inc. "And while those are all admirable professions, children need to understand all of the opportunities that are open to them, including work in manufacturing. We are always happy to give back to our local community and help schools and teachers educate students on these opportunities. We were happy to host and talk to these bright young students."
LEM Products, Inc. hosted students from Colonial Middle School in Plymouth Meeting on May 22 for an exclusive tour of its state-of-the-art facility and an interactive presentation on the wide variety of employment opportunities within manufacturing companies. Students also participated in a Q&A session, video presentation and engagement puzzle activity, and received sample labels, laser engraved products and brochures.
"From the time Michael, Tom, and Jeff greeted us with a brain teaser to 'think outside the box', to our farewell recap, our students were gripped with LEM Products, Inc.," said Michele Stingle, Colonial Middle School's eighth grade special education English teacher. "What made this visit most special was Jeff and Tom's enthusiasm and keen ability to connect with our students. Now, some of my students are considering jobs in the manufacturing arena."
On May 23, LEM Products, Inc. employees traveled to Stewart Middle School and interacted with students in the classroom, discussing possible career paths in the industry and the necessary training involved, to ensure their message about the future of manufacturing reached students throughout the county.
"College may not be best fit for every student," said Melina Onchitta, project coordinator for the Montgomery County Workforce Development Board and organizer of the school visits. "Students need to be informed about the high paying jobs that are available in their community through internships, apprenticeships and on-the-job learning rather than going straight to college with no plan and accumulating extensive debt."
About LEM Products, Inc.
LEM Products, Inc. is a global leader in industrial-strength warning, safety labels and identification solutions across a variety of industries. Founded in 1967, LEM Products, Inc. has grown from a nationwide source for electrical identification products to a global provider of custom and stock identification products of all types. Its labels, tags and signs are designed to exceed the demands of major corporations in the utility, transportation and manufacturing markets and to mark facilities and products for OSHA/ANSI compliance. A WBENC-certified business since 2002, LEM Products, Inc. is also certified by the Pennsylvania Department of General Services and the California Public Utility Commission. Business placed with LEM Products, Inc. qualifies for federal and state diversity spend initiatives and all products are proudly made in the U.S. For more information, visit LEMProductsInc.com or follow @LEMProductsInc on Facebook, Twitter, Pinterest, LinkedIn and YouTube.