Getting a Grip on What's Next for Robotics in Manufacturing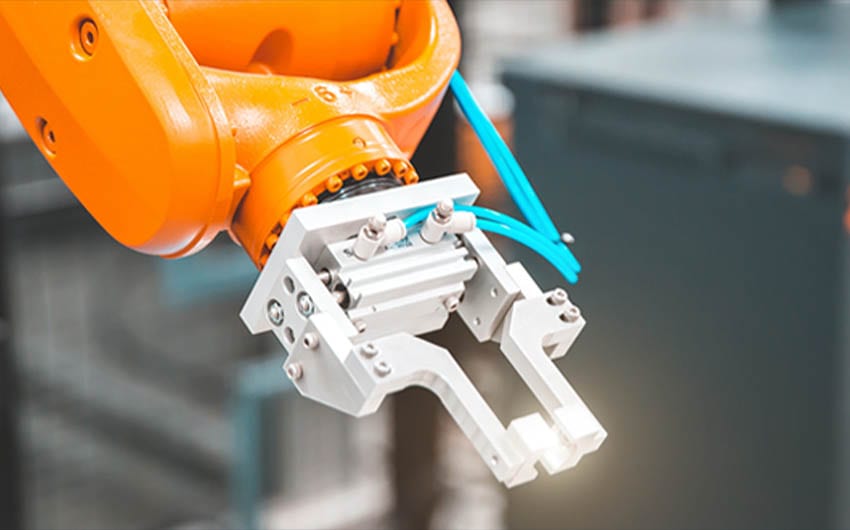 January 21, 2021
Written By: Andrew Peterson
Manufacturing robotics is to some extent following a similar path of advances to those in machining and fixed automation systems. Though the ROI is most easily measured in efficiency and cost savings, manufacturers are looking for robotic technology to help them resolve a pain point in their operation or to create new opportunities. It might be to link processes more efficiently or eliminate the need to outsource a specific function or two.
The growth path for small and medium-sized manufacturers (SMMs) with robotics is therefore increasingly focused on applications and added capabilities, not just efficiency and continuous improvement. The key to increasing adoption of robotics in SMMs is making the robots easier to use and re-use.
In essence, adoption is dependent upon robots having more human-like dexterity and self-control.
NIST Labs Has Designs on Making Robots Easier to Use
Scientists and engineers at NIST Labs are working to close a significant gap between cutting-edge technology and what is currently deployed on many manufacturing shop floors. This is largely due to the lack of measurement science to verify and validate emerging novel research and thus reduce the risk of adoption.
One of the priorities of NIST's Intelligent Systems Division is the advancement of grasping, manipulation and safety performance that will enable SMMs to effectively deploy robot solutions. This work includes performance metrics, test methods and associated measurement tools that can become industry standards.
The research is advancing robotics in manufacturing by providing:
Better repeatability so that robots can reliably perform movements and actions within an X,Y,Z coordinate system space
Easier-to-use human machine interfaces (HMIs) for operators to program tasks and interact with robotics
New designs for grippers that allow more precise, and human-like movements
Better safety and situational awareness
Among the advances now reaching the shop floor is software in handheld HMI devices that translates human coordinate references (right/left, toward/away) into conventional cartesian  X, Y, Z coordinates. This allows operators to more easily program collaborative robots.
Improvements in programming with HMIs have allowed some robots to be programmed by welders who model the movements and actions for the process in question.
Having Conquered Palletization, Robotics Point Toward Assembly
Early adoption of robotics in manufacturing has focused on repetitive tasks that do not require special skills or provide added value. The most popular robotic applications by usage:
| Task | Adoption Rate |
| --- | --- |
| Palletizing | 35% |
| Load/unload | 18% |
| Material handling | 11% |
| Case packing | 11% |
Assembly makes up only 2 percent of robotic usage, though NIST researchers and industry experts believe it holds much promise for widespread adoption among SMMs as manipulation technology improves.
Likely areas for expanding assembly work:
Electrical connectors
Threading and inserting fasteners
Wire routing
One of the challenges for robotic assembly is the multitude of variables that must be accounted for when performing complex operations. For example, the optimal force for a gripper to pick up and move a part might not be the same as the force needed for a threading operation later in the production.
As tactile sensing improves, robots will be able to grip everything using the proper force, potentially reducing the steps needed for that production process.
Gripping Designs Show Improvements in Dexterity, Versatility
NIST Labs are working on about a dozen test methods for gripping and manipulation using the Institute of Electrical and Electronics Engineers standards platform.
The four most common types of robotic grippers:
Vacuum – a standard end-of-arm tooling used for flat, smooth surfaces, often used in palletizing and packaging
Pneumatic – also known as "bang bang grippers" for the noise made in industrial operations, this versatile type often is used for small objects in pick-and-place operations
Hydraulic – the strongest — and messiest — of industrial grippers
Servo-Electric – highly flexible and cost effective, these allow for different material tolerances when handling parts
Innovative designs utilizing six-axis force and torque sensors are flourishing for grasping technologies, including mechanisms that mimic human hands.
These advancements are increasingly emerging on shops floors:
Customizable end effectors that can easily be removed and replaced
Improved dexterity with three-finger adaptive grippers, capable of manipulating fragile items and minimizing tool changes
Robotics using machine learning from intelligent sensors on grippers to teach themselves how to approach objects
Grippers combining multiple technologies. This could be a vacuum gripper with fingers or two separate arms and gripper configurations at the same workstation to allow for multiple tasks, increasing both speed and reliability
Keys to Success When Starting Your Robotic Journey
Unlike fixed automation systems, there is a tradeoff between robotics functionality and ease of use. One of the appeals of robotics is that a robot can be built and programmed to do almost anything. However, the more functionality you build into a robot, the more environmental considerations must be taken into the conditional requirements, which makes it more difficult to program and integrate the robot into operations for additional tasks.
Small-batch planning can be difficult with robotics if manufacturers do not have the right support system in place. There will be more adoption when SMMs can see how robotics will save retooling costs when they are ready to hire staff with robotics in mind. It's not out of the question that a manufacturer with 10 or fewer employees will soon have a robotics expert to assure overall equipment effectiveness.
Catalyst Connection, part of the MEP National NetworkTM, has put together an easy-to-understand guide to robotics. It identified these keys to success for exploring the use of robotics in manufacturing:
Identify resources, including an internal champion, to get the level of support you need
Identify your needs or pain points

Prioritize supporting tools
ID manufacturing examples; start small and keep it simple

Build a business case; factor in 2x–4x hardware costs for tooling, accessories and the complexity of integration
Experts at DVIRC are ready to help you explore — and potentially adopt — robotics. Connect with us to see how robotics can help you expand your business by adding new functionality.
Information about NIST Labs research provided by Elena Messina, Jeremy Marvel and Joseph Falco.
Original Source: https://www.nist.gov/blogs/manufacturing-innovation-blog/getting-grip-whats-next-robotics-manufacturing