DVIRC Partners With Saint-Gobain to Address the Future of Manufacturing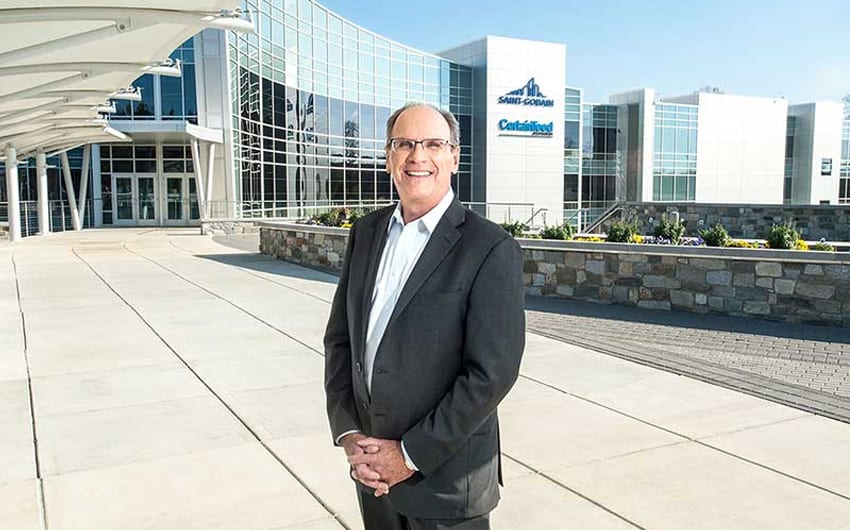 August 18, 2017
On Aug. 15, manufacturing leaders from the Delaware Valley region gathered at the 21st Annual Manufacturing Executives Conference to address the future of manufacturing. The event, hosted by the Delaware Valley Industrial Resource Center (DVIRC), featured Thomas Kinisky, CEO of Saint-Gobain Corporation, who discussed his company's business and manufacturing strategies, as well as Wells Fargo Advisors who provided an overview of the economic landscape.
During the event, Kinisky guided attendees through Saint-Gobain's strategic initiatives, including attracting talent, boosting innovation, and redefining the company's brand in North America. He emphasized the need to address workforce issues to enhance the future of manufacturing. Saint-Gobain is a 350-year-old world leader in designing and manufacturing high-performance building materials that improve the lives of people all over the world.
Kinisky highlighted the importance of innovation to a company's success, and emphasized the role employee diversity plays in a company's ability to be innovative.  His experience working on a diverse management team of individuals with different backgrounds and experiences was by far his most successful team, he explained. "We didn't always agree, and we all had different opinions, but we all wanted to move forward together." He also touched on the need to apply the technology from one product to offer a business solution in another industry. "Extending the power and impact of innovation across an entire business and company is a lifelong pursuit of mine, as is setting the context for business growth," he said.
Every year, the DVIRC hosts a Manufacturing Executive Conference featuring prominent speakers and economists as a benefit for members of its Manufacturing Network Groups. The DVIRC Network Groups provide a confidential setting where regional C-level leaders from non-competing firms share common challenges as well as best practice solutions to achieve profitable growth. Members gain a robust network of advisors, business development opportunities, best practice presentations, and industry resources.
"We're so thrilled to be able to put on this event for our members every year," said Barry Miller, President and CEO of DVIRC. "Our members are integral leaders in the manufacturing industry, and the event gives them the opportunity to come together to discuss ways to take manufacturing to the next level." Miller was pleased members extended event invitations to their colleagues to attend as their guests. "There's so much to learn, and I hope this event gave guests a chance to see just how special the DVIRC network is."
Bob Rosania, owner and CEO of Ehmke Manufacturing Company, Inc., which produces high-quality tactical fabric products for the U.S. Armed Forces and others, has been a member of DVIRC's Manufacturing Network Groups for nearly a decade. "This has been a wonderful chance to get different manufacturing groups together and share challenges others see and get a feel for manufacturing in the area," Rosania said. "Sometimes you get wrapped up in your four walls and it's interesting to hear a diversity of perspectives."
Drew Mattis, VP of Operations for Original Philly Cheesesteak Co., attended the conference as a guest. He remarked on the value he received from the event and Kinisky's talk. "Hearing from Kinisky and his 350-year-old company's strategy about hiring and retaining talent really resonated with me," Mattis said. "We have a lot of the same pains." Mattis recently hired DVIRC to provide his company with ERP software selection and implementation consulting, and cited DVIRC as a valuable resource for consulting services and general guidance. "DVIRC has given us a pretty big leap forward," he said.
To learn more about DVIRC's Manufacturing Network Groups, click here.
To attend an upcoming Network Group meeting as a guest or to learn more about membership, contact us or email info@dvirc.org.
About DVIRC
DVIRC is a regional economic development organization with a public purpose—to support the profitable growth of small and mid-sized U.S. manufacturers. Our vision is to have the region's manufacturing companies recognized as among the most advanced and innovative manufacturing companies in the world. Our mission is to strengthen regional manufacturing companies by helping them continuously improve their competitiveness and increase their profitable growth.