DVIRC Connects Legislature with Manufacturing Community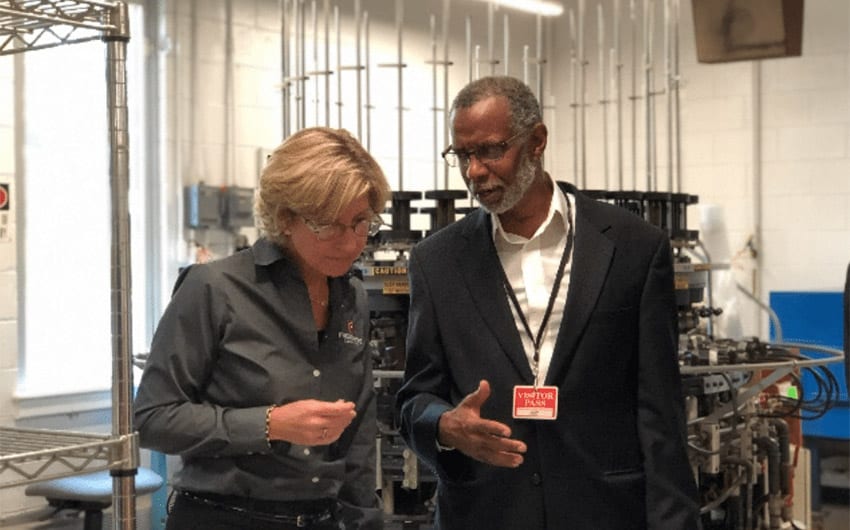 October 8, 2018
State Senator Art Haywood (4th District) was hosted at The Fredericks Company by Fredericks' President and CEO Heidi McKenna on September 19th at the company's headquarters in Huntingdon Valley.  In an effort to better understand the opportunities and challenges facing manufacturers, the Senator spent the morning touring the facility, discussing production and supply chain management with McKenna and Fredericks COO Andy Orr, and hearing from employees throughout the plant.
During the tour of the operation, the Senator learned about the high value Fredericks' management places on its employees, and how the company shares its monthly financial performance with them…and how it also shares its profits.  McKenna and the Senator discussed the consolidation going on in their industry and the many strategies being implemented to differentiate Fredericks in a tough market.  Hit hard by the 2008 recession, the company has rebounded strongly and is nearly at pre-recession employment levels.  With a suite of highly-engineered products sold around the world, the company is investing in advanced manufacturing technologies, including robotics, automation systems, and 3D printing.
Fredericks is proud to be a woman-owned small business (WOSB) and is ISO 9001-2015 certified. A manufacturer of tilt measurement and vacuum measurement products, Fredericks specializes in electrolytic tilt sensors and inclinometers, high-performance vacuum gauges and controllers, and precision glass components.  The meeting was arranged by DVIRC at the request of the Senator's office.