A "Big Picture" Look at the OSHA Top 10 for Manufacturers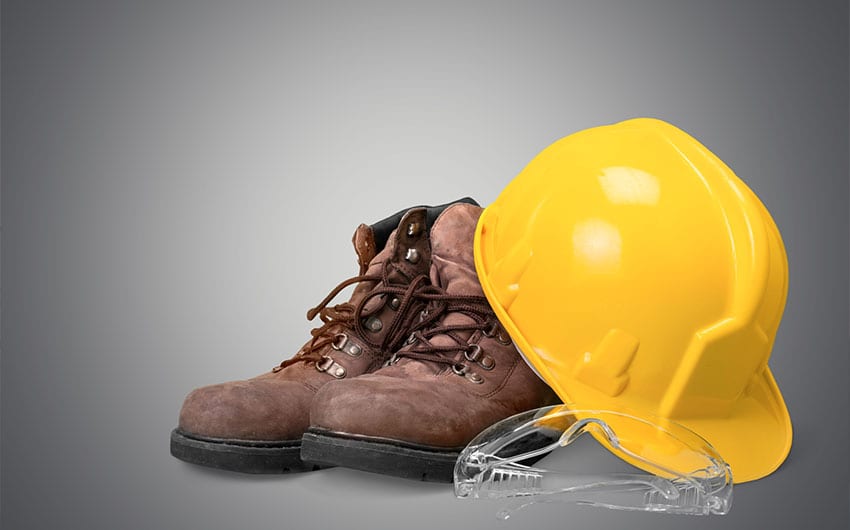 Author: Todd Allshouse, Director of Health & Safety Services, Compliance Management International
As business leaders, we are all interested in improving workplace safety and complying with OSHA regulations. But how do we decide where to allocate our resources to get the best return on our regulatory compliance investment?
Did you know there are three groups of OSHA regulations that account for nearly 50% of all OSHA fines in the manufacturing sector? Do you know the three primary areas that OSHA focuses on when issuing three-quarters of their fines? (Hint: you won't find these answers in OSHA's annual Top 10 list of frequently cited standards). To get these answers, we have to take a step back and look at the "big picture."
The OSHA Top 10
Whether you are a sports lover or a popular music fan, everyone enjoys a good top 10 list. Business leaders with safety and health responsibilities are no exception. Each year, OSHA publishes its eagerly awaited list of the 10 most frequently cited regulations with the goal of informing employers about the steps for finding and fixing recognized hazards.
The Top 10 most frequently cited regulations for work sites inspected by OSHA between October 1, 2018 and September 30, 2019 include:
501, Fall Protection
1200, Hazard Communication
451, Scaffolding
147, The Control of Hazardous Energy (Lockout/Tagout)
134, Respiratory Protection
1053, Ladders
178, Powered Industrial Trucks
503, Fall Protection – Training Requirements
212, Machine Guarding
102, Personal Protective and Lifesaving Equipment – Eye and Face Protection
The list includes both general industry (29 CFR 1910) and construction (29 CFR 1926) regulations that haven't changed much in the past five years. While it is interesting to review, how does this list help the average employer enhance workplace safety and health, and reduce its risk of OSHA fines? Unfortunately, the answer is that it doesn't.
The "Big Picture"
When analyzing OSHA's inspection history, it is more beneficial to aggregate the data into similar groups of regulations (OSHA 1910 Subparts) instead of considering each individual regulation on its own. Grouping similar regulations gives us a "big picture" view of the Top 10 that can help identify more clear trends that guide employers in the strategic allocation of their safety and health resources.
For example, let's consider the recent regulatory history for the manufacturing sector (NAICS 31 through 33). During the fiscal year 2019 (October 1, 2018 through September 30, 2019), there were more than 15,000 violations issued, resulting in more than $54 million in fines. Each OSHA inspection averaged about 3.5 violations and more than $3,500 per violation. That means if OSHA visits your site, on average you can expect more than $12,000 in fines!
By grouping the OSHA inspection data into similar groups of regulations, a slightly different Top 10 list begins to emerge for the manufacturing sector: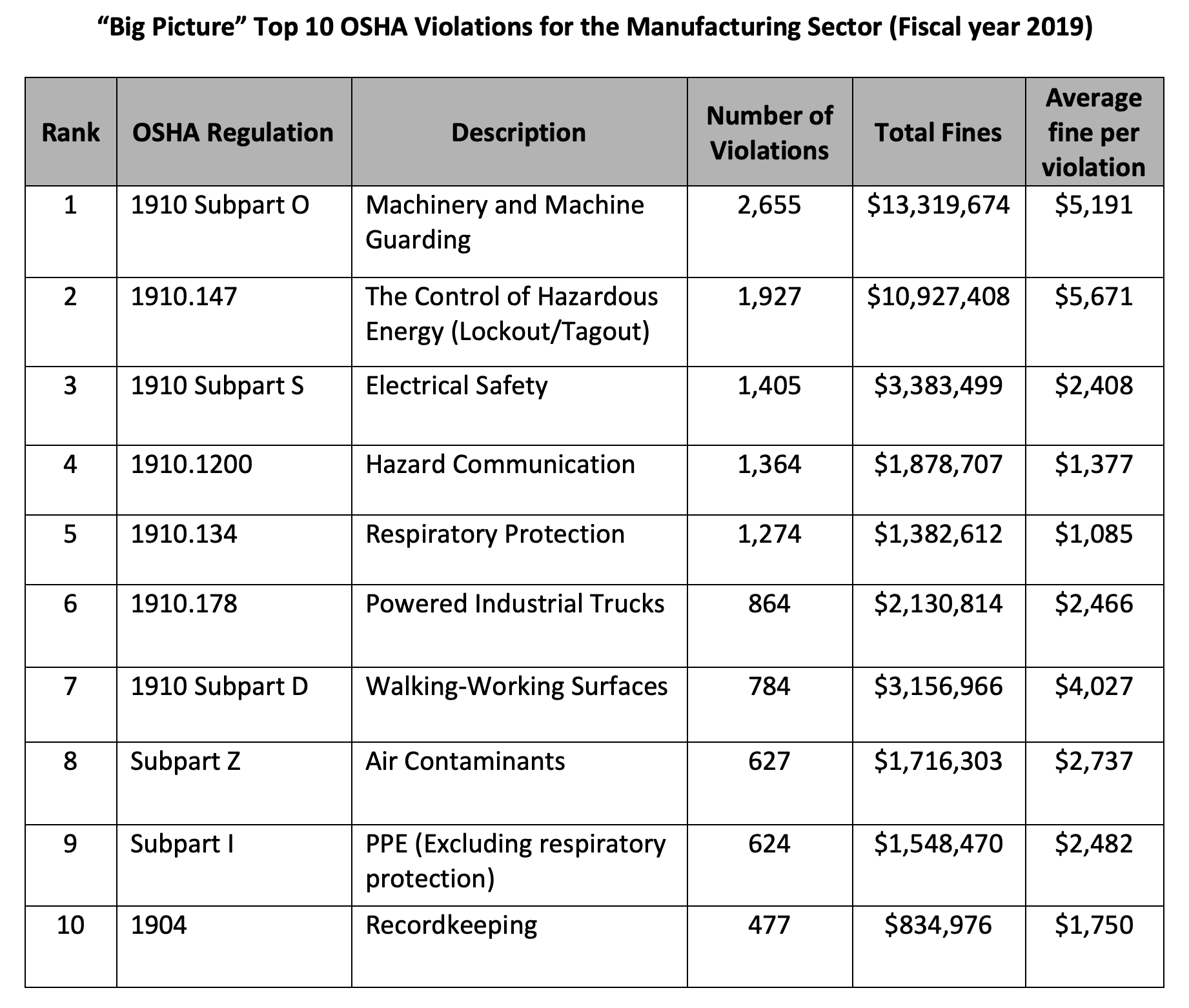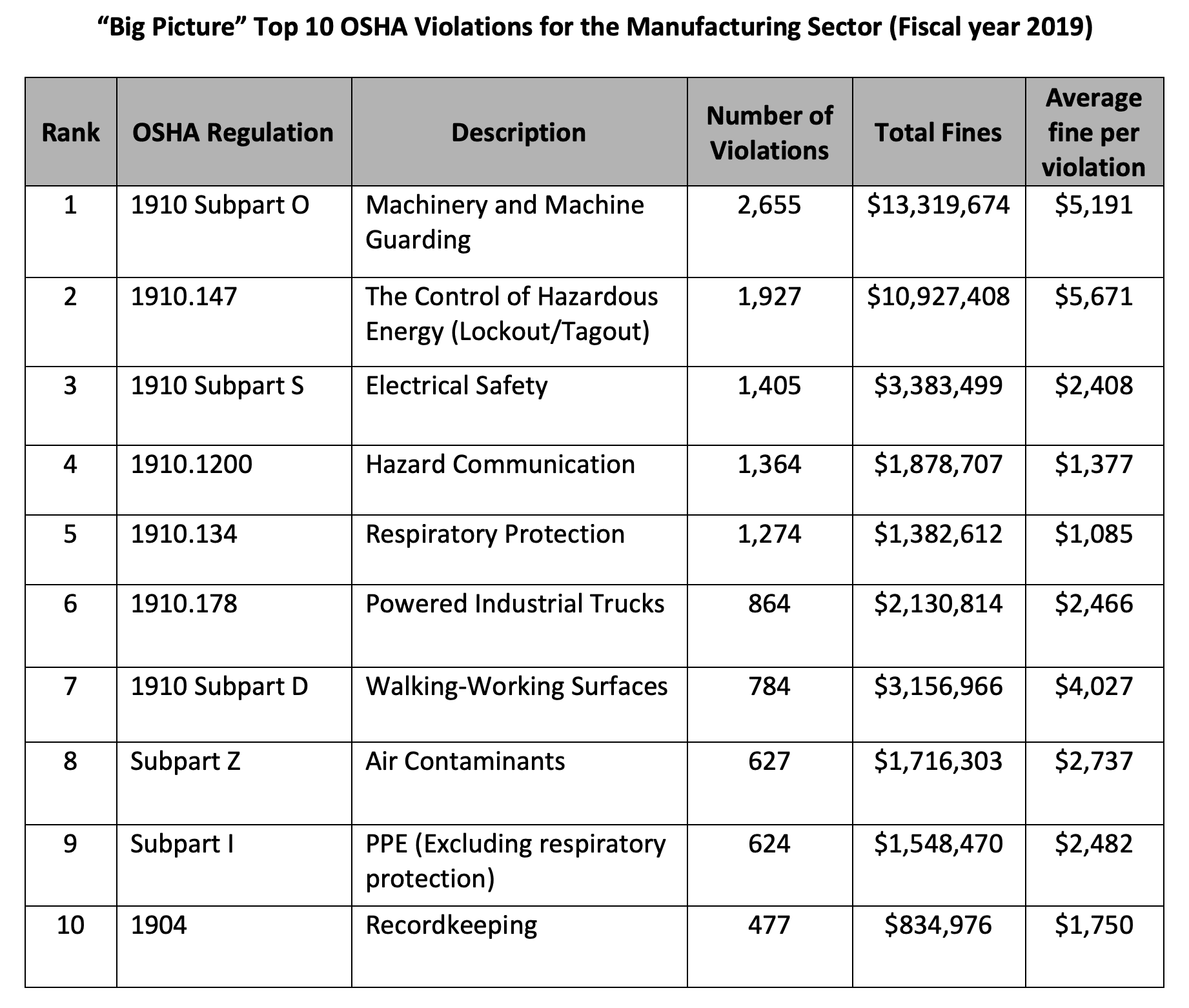 These Top 10 account for more than 75% of the total violations and nearly 75% of the fines. This 10,000-foot view of the Top 10 list shows us that there are three main areas where OSHA has focused its enforcement efforts in the manufacturing sector: Machines, Materials and Movement.
Machines, Materials and Movement
Our "big picture" Top 10 list above clearly illustrates that OSHA's long-running National Emphasis Program (NEP) on amputations has been effective in identifying workplace non-compliance of machine safety hazards related to moving machine parts, isolation of hazardous energy sources, and electrical systems. These three regulations alone account for nearly 40% of all violations and over 50% of the fines in the manufacturing sector.
Four of our "big picture" Top 10 relate to protection of employees from material and chemical hazards in the workplace, including hazard communication, airborne chemical contaminants, respiratory protection, and personal protective equipment (PPE). Since chemical usage is ubiquitous in the manufacturing sector, OSHA has clearly targeted chemical exposure control as a priority.
Rounding out our "big picture" Top 10 are violations related to the movement of people and equipment, including powered industrial trucks and employee slip, trip, and fall exposures. Powered industrial truck safety has been a common fixture on the OSHA's Top 10 list, and OSHA is considering new revisions to these regulations. Furthermore, OSHA's updated Walking-Working Surface regulations, which came into effect in 2017, have significantly increased the number of fall protection violations in the manufacturing sector. 
Putting It All Together
Machines, Materials and Movement form the core of the manufacturing sector risks, and account for 75% of the OSHA violations and fines. If you are unsure where to invest your safety and health resources to reduce your regulatory risk, make sure you are covering these fundamentals first. By considering the "big picture," you are making a worthwhile investment. You will enhance workplace safety and health; reduce injuries and associated costs; and breathe a little easier knowing you are addressing the issues OSHA considers most important.
Learn more about the ways we can help you with your Environmental Health & Safety needs, or contact us.