6th Annual Manufacturing Summit Draws Hundreds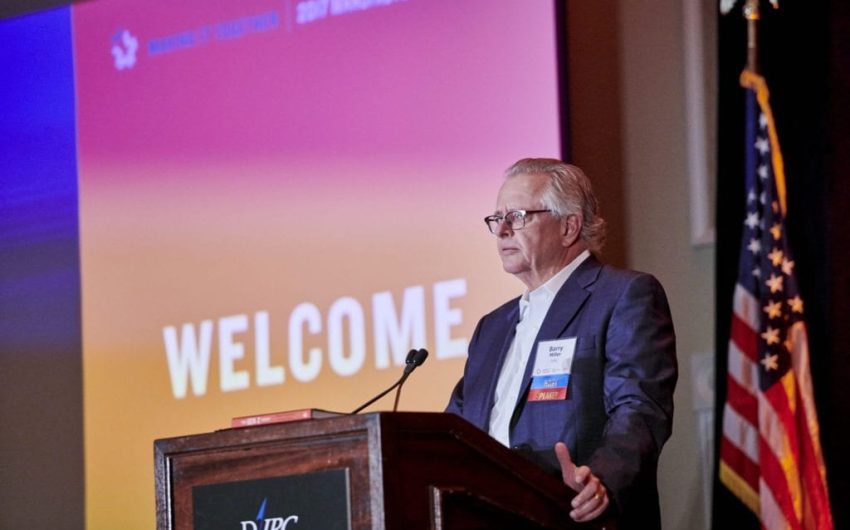 November 6, 2017
More than 400 people gathered at the Drexelbrook Event Center on October 13th to participate in the 2017 Manufacturing Summithosted by the DVIRC, a regional economic development organization that supports the profitable growth of small and mid-sized U.S. manufacturers (SMMs). Now in its sixth year, the Summit brings together members of the manufacturing ecosystem, including SMMs, large manufacturers, government agencies, technology companies, academics, makers, designers, and students for a day of innovation and education.
"It's easy for business leaders to get caught up in the daily whirlwind of the business. The Summit gives us a chance to recharge our batteries, learn best practices, cultivate new relationships, and celebrate the manufacturing community," said Barry Miller, President and CEO of DVIRC. While many conferences focus on specific elements of manufacturing, such as a specific industry or part of the supply chain, this is the only event that brings together all members of the manufacturing ecosystem, according to Miller.
This year's theme, Making It Together, focused on four areas—leadership, talent, culture, and technology—which were supported by a lineup of speakers, breakout sessions, exhibits, and demonstrations of cutting-edge technology such as autonomous drones, robotics, 3-D printing, and virtual reality.
"The manufacturing industry offers unprecedented opportunities, but it requires new approaches, new technologies, new talent, and new business models," Miller said.
The event featured a keynote by Thomas Koulopoulos, President and Founder of Delphi Group, who addressed the role of leadership in navigating disruption.
"We need to rethink the way we look at age and its implications on ourselves and our organizations,"said Koulopoulos. "Today we are all using the same technologies to connect and communicate, and even a 10-year-old can wield the influence of millions of followers. As long as we perpetuate the notion of a generation gap, we are driving wedges into our organizations rather than leveraging this rich and diverse set of skills and experiences," he said.
Brian Beaulieu, CEO and Principal of ITR Economics, provided economic insights to help manufacturing leaders make strategic business decisions. He addressed what he called the management challenge for 2018—ensuring that managers have enough talent, working capital, and equipment to handle growth opportunities."If you don't have enough, and you don't have the right systems in place, this will be a period of profitless prosperity," Beaulieu said. "Your top line is going to grow, but your bottom line is going to lag behind."
Another big player in the manufacturing ecosystem at this year's summit was the Department of Defense (DOD) and its Manufacturing USA Institutes—a national network of organizations that focuses on developing and commercializing critical manufacturing technologies through public-private partnerships. The DOD Institutes across the country are focused on making the U.S. industrial base more competitive and innovative by accelerating the development and adoption of new manufacturing technologies. DVIRC is working with the DOD to develop an operating model to bring the Institutes' Advanced Manufacturing Technologies (AMTs) to the regional SMM community.
"SMMs are critical to both the DOD and commercial markets," according to Tracy Frost, Director of the DOD Manufacturing USA Institutes and Acting Director of DOD Manufacturing Technology (ManTech). At the Summit, Frost facilitated a dialogue among representatives from three Manufacturing USA Institutes, about how each of them can help SMMs with AMTs. "Advanced technologies are a way for SMMs to be more impactful to the economy and to our national defense," she added.
his year, DVIRC added a new dimension to the Summit roster, dedicating a portion of the exhibit area to Makers—the umbrella term for independent inventors, designers, and hardware entrepreneurs. The Maker Movement, as described in Chris Anderson's book, Makers: The New Industrial Revolution, is a swelling community of people determined to create their own innovative products using 3-D printers, laser cutters, advanced design tools, and open-source hardware.
"We wanted to convene the makers as well as students from area high schools and universities this year because of their importance to the talent and innovation pipelines," Miller said. "And we're grateful to everyone who helped make this a success, especially our many sponsors!" he added.
DVIRC is already planning for an even bigger and more forward-thinking summit next year on October 12, 2018. For more details about the 2017 Manufacturing Summit, including photos and highlights, click here.