Fueling Growth for Manufacturers Like You.
It's what we do.
Identify, engage and acquire new customers and retain existing ones through DVIRC's Marketing and Sales support.
Photo: Sylvia Wower, Vice President, Research and Strategic Growth, DVIRC
Ready to Grow Your Business? Download the e-book.
Receive your copy of "10 Ways to Maximize Lead Generation Effectiveness" e-book and schedule a free marketing & sales consultation.
Need Marketing & Sales Support to Drive Growth?
For over 10 years, DVIRC has functioned as an outsourced sales and marketing
team or an enhancement to existing teams for hundreds of clients.

30+ Years Serving Manufacturers
Over 30 years exclusively serving small and mid-sized manufacturers in all sectors with a wide array of business solutions.

$60+ Million
Increased Sales
DVIRC has helped clients increase their sales by over $60 Million in the last year alone, fueling growth for their businesses.

We forge a true partnership with each client to develop a unique solution to help grow your business.
Your Single-Source Solution for Marketing & Sales Support




Website Design & Development
Results of Our Growth Program
Estimated Growth of $1 Million from Lead Generation
Electronic and Electromechanic Manufacturer
2020 Best Year of Sales Growth in Company History
Increased Website Contacts by nearly 100%
Chemical Sealant Manufacturer
Website Organic Search Traffic Increased More Than 60%
"DVIRC's Business Growth Services team has become our outsourced sales and marketing team. [They are] an extension of our business, and a reliable, trusted partner."

Kip Anthony
President, EFE
Ready to Grow Your Business?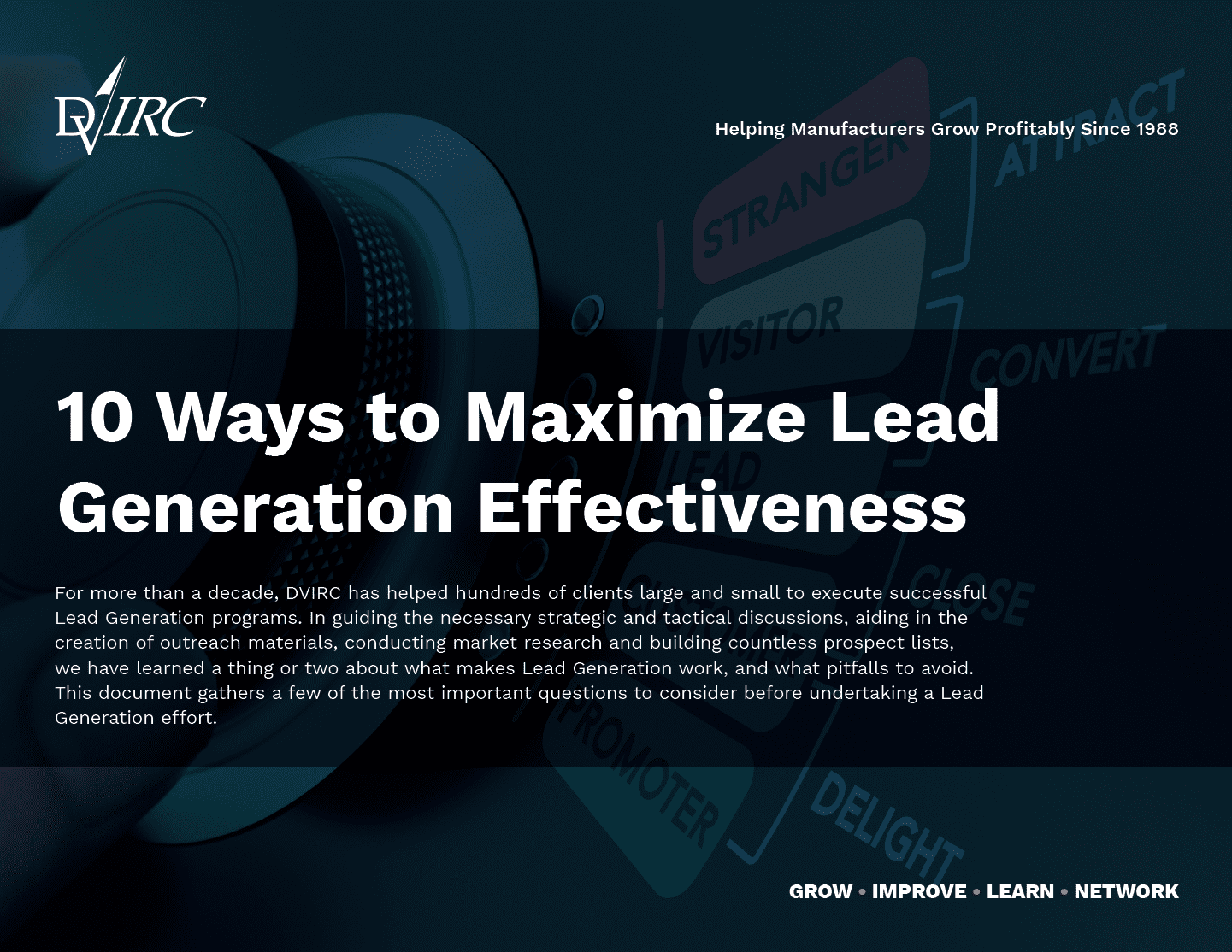 Get a copy of "10 Way to Maximize Lead Generation Effectiveness" eBook that outlines powerful ways to optimize your lead generation efforts to streamline growth opportunities.