Fueling Growth for Manufacturers Like You.
It's what we do.
Identify, engage and acquire new customers and retain existing ones through DVIRC's Marketing and Sales support.
Photo: Sylvia Wower, Vice President, Research and Strategic Growth, DVIRC
Ask Our Experts and Get a Free Downloadable eBook
Receive your copy of "10 Ways to Maximize Lead Generation Effectiveness" e-book and schedule a free marketing & sales consultation.
Complimentary Website Assessment
The website audit will review up to 100 pages of your website and catalog errors, missing images, and other issues that impact your website's performance. Code issues, SEO problems and website speed issues prevent customers from learning the most about your business and completing forms to contact you. The website audit helps find these issues, and provides recommendations on how to fix them.
Mastering Online Sales: Creating a Lead-Generating Website for Manufacturers
On June 27th, join us for an informative 3-hour workshop on transforming your manufacturing website into a standout digital marketing asset. Facilitated by DVIRC Marketing Manager, Luke Plating, and Brand Llama Co-Founder, Sagan Medvec, this workshop is designed for manufacturing business leaders and sales & marketing professionals who want to revamp their website and improve their online presence.
Need Marketing & Sales Support to Drive Growth?
For over 10 years, DVIRC has functioned as an outsourced sales and marketing
team or an enhancement to existing teams for hundreds of clients.

30+ Years Serving Manufacturers
Over 30 years exclusively serving small and mid-sized manufacturers in all sectors with a wide array of business solutions.

$60+ Million
Increased Sales
DVIRC has helped clients increase their sales by over $60 Million in the last year alone, fueling growth for their businesses.

We forge a true partnership with each client to develop a unique solution to help grow your business.
Your Single-Source Solution for Marketing & Sales Support




Website Design & Development
Results of Our Growth Program
Estimated Growth of $1 Million from Lead Generation
Electronic and Electromechanic Manufacturer
2020 Best Year of Sales Growth in Company History
Increased Website Contacts by nearly 100%
Chemical Sealant Manufacturer
Website Organic Search Traffic Increased More Than 60%
"DVIRC's Business Growth Services team has become our outsourced sales and marketing team. [They are] an extension of our business, and a reliable, trusted partner."

Kip Anthony
President, EFE
Ready to Grow Your Business?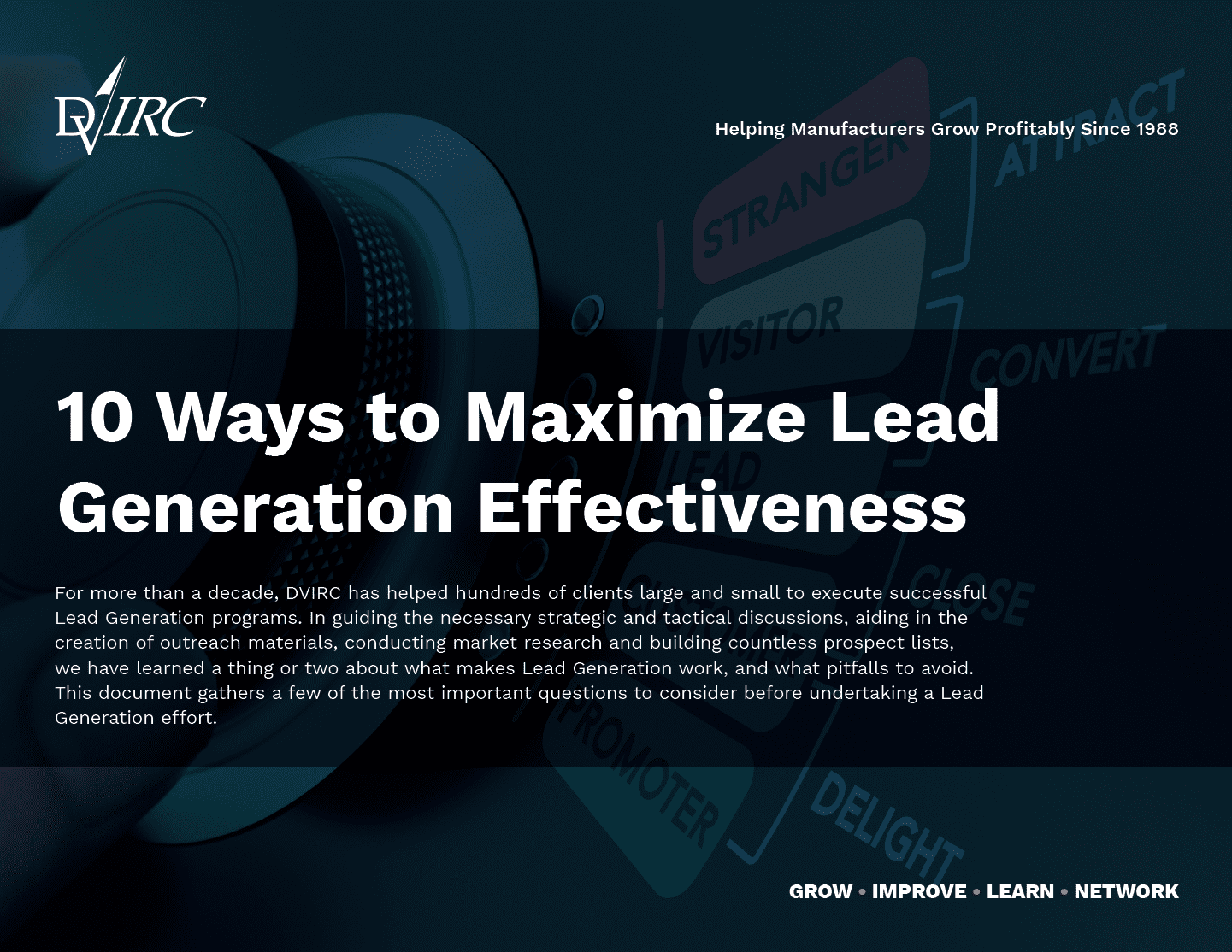 Get a copy of "10 Way to Maximize Lead Generation Effectiveness" eBook that outlines powerful ways to optimize your lead generation efforts to streamline growth opportunities.