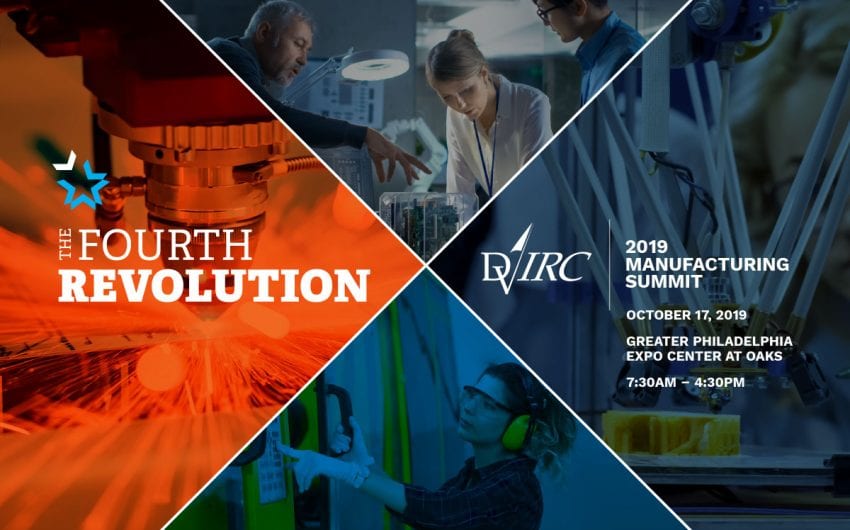 TIME & PLACE
October 17, 2019
Greater Philadelphia Expo Center at Oaks – HALL A
7:30am – 4:30pm
REGISTRATION
$125.00 Per Ticket
Online Registration Closes  – 10/12/19 @ midnight
Walk-ins Welcome!
ABOUT DVIRC
The Delaware Valley Industrial Resource Center (DVIRC) is a regional economic development organization with a public purpose – to support the profitable growth of small and mid-sized U.S. manufacturers.
The 4th REVOLUTION
2019 Manufacturing Summit Agenda
Registration / Breakfast / Networking
Tony Girifalco, Executive Vice President, DVIRC
Mark Kapczynski, Vice President, Citizens Bank
Gold Sponsor
Brian Beaulieu, CEO, ITR Economics
Tracee Hunt, President / CEO, Total HR Solutions
Jen Ligo, Vice President of Communications, Philadelphia Society of Women Engineers
Erin Yanus, Continuous Improvement Specialist, New Hudson Facades
Floor Demonstrations / Exhibits
GROW:
6 Effective Steps to Promote & Grow Your Business In 2020 and Beyond
Chris Scafario, VP Consulting Operations, DVIRC
IMPROVE:
A Practical and Sustainable Way to Build a High Performing Culture
Bill Kaiser, Vice President, High Performing Culture
LEARN:
How to Build World-Class Leaders & Organizations
J.R. McGee, CEO, X-Stream Leadership Group
Defense Sector Business Opportunities:
Michael Freedman, President / CEO, Procurement Professionals, Inc.
Tools to Lead Your Business; Strategic Planning and Operations
Paul Tramo, President, Sentinel Processing Systems, Inc.
Don Smullen, Business Solutions Advisor, DVIRC
Kevin Hartsoe, President, Neu Dynamics
GROW:
Succession Planning & Employee Stock Ownership Plans – Changing Your Life, Your Business, and the Lives of your Employees Forever
Bill Stockwell, CEO, Stockwell Elastomerics Inc.
Mark Steffens, CEO, Airline Hydraulics Corporation
Kevin McPhillips, CEO, Pennsylvania Center for Employee Ownership
IMPROVE:
Factory of the Future – Now, Next and Beyond
Andreas Hassold, I4.0 Connected Industry Consultant, USA – Bosch Rexroth Corporation
Donna Butchko, President, Leadership Systems
GROW:
The Role of Market Research in Profitable Growth
Sylvia Wower, Director, Market & Economic Research, DVIRC
Steve McManus, Innovation Advisor, RTI International
IMPROVE:
Enabling Smart Manufacturing
Julie Santogatta, Auomation Manager, Rumsey 
LEARN:
Continuous Improvement is the ONLY Answer… Change My Mind…
E.J. Lydon, Principal, Prosit Business Consulting, LLC
Alan Shell, Senior Advanced Manufacturing Specialist, DVIRC
Bob Walsh, Plant Manager, Stockwell Elastomerics, Inc.
Floor Demonstrations / Exhibits
Sign Up in the DVIRC Square for "On-The-Square" Sessions
History of Manufacturing in Philadelphia – 1680 – Post Industrial Revolution!
Jack McCarthy
Sponsored by: PECO
Location: 1784 Square
10:30 – 10:50   ·   11:30 – 11:50   ·   1:30 – 1:50   ·   2:30 – 2:50
Cybersecurity – The Risk of Doing Nothing
Sponsored by: Avanceon
Location: Now Square
10:55 – 11:15   ·   1:45 – 2:05
Student Tower Building Competition
Sponsored by: First Quality Retail Services
Location: First Quality Retail Services Booth
11:30 – 12:00   ·   1:15 – 1:45
Makers / Designers / Hardware Entrepreneurs: Innovations in Philadelphia
Nick Lang – First Person View (FPV) Drone Race & Demonstration
AR / VR Demonstrations
Robotic Demonstrations
Kreischer Miller – 2019 Manufacturing Survey Results
Jack McCarthy – A History of Manufacturing in Philadelphia – 1680 – Post Industrial Revolution
Patricia Toth NIST MEP, Cybersecurity Program Manager, Prioritizing National Security
George Mach, CEO, Apex IT: Protecting Your Organization against Cyber Attacks
October 17, 2019
Greater Philadelphia Expo Center at Oaks
7:30am – 4:30pm